20th Anniversary Balloon Release on February 12th
In celebration of our 20th Anniversary, we are holding a night balloon release on February 12, 2015.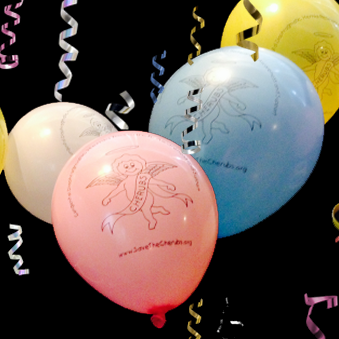 Each balloon will be lit and will hold the name of a cherub.   Donate just $5.00 to have your cherub's name on a balloon.  No limit to the number of balloons that you can purchase!  Every balloon purchased will be photographed and posted on social media so you will have a photo of your cherub's balloon(s).

Purchase balloons at http://www.cherubs-cdh.org/awareness/2013-07-29-20-06-27#!/20th-Anniversary-Balloon-Release-Balloon/p/46017258/category=0

The person who sells the most balloons will win the trophy for February!


All balloons purchased by noon February 12th will be included in the balloon release.  Balloons purchased afterwards will be part of the April 19th balloon release.
Purchased balloons as of 11:00 am EST February 12th:
| | | | | | |
| --- | --- | --- | --- | --- | --- |
|   | Blue | Pink | Yellow | White | Total |
| Aaron Kane Boyd | 25 | 0 | 7 | 5 | 36 |
| Adam Jacob Salas | 1 | 0 | 0 | 0 | 1 |
| Alfie | 1 | 0 | 0 | 0 | 1 |
| Andrew Daniel Castle-Hudso | 2 | 0 | 0 | 0 | 2 |
| Asher Patz | 1 | 0 | 0 | 0 | 1 |
| Ava Marie Medina | 0 | 1 | 0 | 0 | 1 |
| Aven Lynne McLeod | 0 | 1 | 0 | 0 | 1 |
| Avery Ellen | 0 | 1 | 0 | 0 | 1 |
| Azlee Bifferato | 0 | 1 | 0 | 0 | 1 |
| Baby Owen | 1 | 0 | 1 | 0 | 2 |
| Bentley Holbrook | 1 | 0 | 0 | 0 | 1 |
| Brayden Michael Bammerlin  | 1 | 0 | 0 | 0 | 1 |
| Bryson Woodruff | 1 | 0 | 0 | 0 | 1 |
| Casey Carter | 2 | 2 | 2 | 2 | 8 |
| Chaia D'Lynn Boyett | 0 | 13 | 0 | 1 | 14 |
| Charley | 0 | 1 | 0 | 0 | 1 |
| Chloe | 0 | 1 | 0 | 0 | 1 |
| Christian Kime | 1 | 0 | 0 | 0 | 1 |
| Colin Small  | 1 | 0 | 0 | 0 | 1 |
| Cruz Santino Valdez | 1 | 0 | 1 | 1 | 3 |
| Daddy, Mommy, Reece & Grandma | 0 | 4 | 0 | 0 | 4 |
| Daisy | 0 | 1 | 0 | 0 | 1 |
| Easton  | 1 | 0 | 0 | 0 | 1 |
| Eilidh | 0 | 1 | 0 | 0 | 1 |
| Elijah Garcia | 1 | 0 | 0 | 0 | 1 |
| Emilio Manuel Ruiz | 1 | 0 | 0 | 0 | 1 |
| Emily Binns | 2 | 3 | 3 | 2 |   |
| Emily MacKenzie  | 2 | 0 | 0 | 0 | 2 |
| Emmi Daliana Garcia | 0 | 10 | 0 | 0 | 10 |
| Ethan Smith | 1 | 0 | 0 | 0 | 1 |
| Evan Jackson | 1 | 0 | 0 | 0 | 1 |
| Gavin Ream | 4 | 0 | 0 | 0 | 4 |
| Gloria Butler | 0 | 1 | 0 | 0 | 1 |
| Graham Gillis  | 1 | 0 | 0 | 0 | 1 |
| Haley Gulling | 0 | 1 | 1 | 1 | 3 |
| Hanna | 0 | 1 | 0 | 0 | 1 |
| Hannah Svoboda  | 0 | 1 | 0 | 0 | 1 |
| Happy 5th Birthday Anastacia, Love Charley XXX | 0 | 1 | 0 | 0 | 1 |
| Hazel Julaine Kleberg  | 0 | 3 | 0 | 0 | 3 |
| Heidi Penny | 0 | 3 | 0 | 0 | 3 |
| Jacob Rowen | 1 | 0 | 0 | 0 | 1 |
| Jacob Zimmerman | 1 | 0 | 0 | 0 | 1 |
| Jak | 1 | 0 | 0 | 0 | 1 |
| Javier Ramirez-Parks | 0 | 0 | 0 | 0 | 0 |
| Jayden Gilbert | 2 | 0 | 0 | 0 | 2 |
| Joaquin Jimenez | 1 | 0 | 0 | 0 | 1 |
| Joshua Kyle Phillips | 2 | 0 | 0 | 0 | 2 |
| Joy Bridget | 1 | 1 | 1 | 0 | 3 |
| Kaegan Noelle Dampier | 0 | 1 | 1 | 0 | 2 |
| Katelyn A. Send | 0 | 1 | 0 | 0 | 1 |
| Killian | 2 | 0 | 0 | 0 | 2 |
| Lahlynn Grace Bingaman | 0 | 4 | 0 | 0 | 1 |
| Leelu Shea Renollet  | 3 | 3 | 3 | 1 | 10 |
| Leelu Shea Renollet | 0 | 4 | 0 | 0 | 4 |
| Lexee | 0 | 1 | 0 | 0 | 1 |
| Lexee Poll | 0 | 1 | 0 | 0 | 1 |
| Liam Joseph Hawkins | 7 | 2 | 4 | 1 | 14 |
| Libby | 0 | 1 | 0 | 0 | 1 |
| Libby Burchel | 0 | 1 | 0 | 0 | 1 |
| Liz Plakholm | 1 | 0 | 0 | 0 | 1 |
| London Elizabeth | 0 | 1 | 0 | 0 | 1 |
| London Woodward | 0 | 1 | 0 | 0 | 1 |
| Lucas Curry | 1 | 0 | 0 | 0 | 1 |
| Lucas Dean Curry | 1 | 0 | 0 | 0 | 1 |
| Maddie | 0 | 4 | 0 | 0 | 4 |
| Matthew Scott Ingha | 4 | 0 | 0 | 0 | 4 |
| Micaela Kostmaye | 5 | 0 | 0 | 0 | 5 |
| Micaiah | 1 | 0 | 0 | 0 | 1 |
| Mikayla Marie Duscher | 0 | 1 | 0 | 0 | 1 |
| Milton Hammer | 1 | 0 | 0 | 0 | 1 |
| Nathan Daniel Scelfo | 10 | 0 | 0 | 0 | 10 |
| Noah M. | 1 | 0 | 0 | 0 | 1 |
| Nora Grace Lange | 0 | 1 | 0 | 0 | 1 |
| Orion Klee | 1 | 0 | 0 | 0 | 1 |
| Paislee Grace Mears | 1 | 8 | 1 | 1 | 11 |
| Paul Allen Clark | 8 | 0 | 0 | 0 | 8 |
| Preston | 1 | 0 | 0 | 0 | 1 |
| Reese Miley Daly | 0 | 1 | 0 | 0 | 1 |
| Reilly Wilson | 2 | 0 | 3 | 2 | 7 |
| Riley Bundy Soria | 1 | 0 | 0 | 0 | 1 |
| Sam | 22 | 0 | 0 | 0 | 22 |
| Shane Torrence | 3 | 1 | 2 | 1 | 7 |
| Taylor Nicole Wyckoff | 0 | 1 | 0 | 0 | 1 |
| VinaBelle Bifferato | 0 | 1 | 0 | 0 | 1 |
|   |   |   |   |   |   |
|   |   |   |   |   |   |
|   |   |   |   |   |   |
|   |   |   |   |   |   |